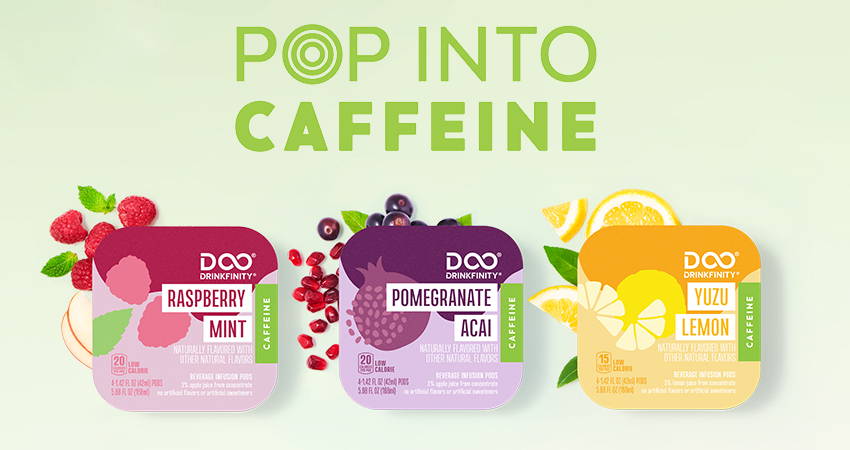 Introducing Our Three New Caffeine Pods
"Green coffee" refers to raw or unroasted coffee beans. To create green coffee bean extract beans are soaked and concentrated. The extract created from these "virgin" beans is at the core of our three new caffeine infusion pods.
Our nine flavor pods have three distinct functions, or ways to hydrate, via electrolytes, vitamins, or caffeine. Of the nine, three encourage consumers to craft enhanced caffeine infused water. Caffeine enhanced pods contain about as much caffeine as a cup of coffee, or 89 milligrams. Our goal is to hydrate you while boosting your day.
Pomegranate Açaí
Pomegranate Açaí aims to elevate both mind and body with a flavorful blend of pomegranate flavor, açaí, and green coffee bean extract, this pod is "low cal" or 20 calories.
Raspberry Mint
Give your body the boost it needs – invigorating green coffee bean extract can improve alertness and will have you recharged in no time flat. The Raspberry Mint blend balances this bold flavor and is also "low cal," containing 20 calories.
Yuzu Lemon
Need a pick-me-up from the daily grind? Restore with caffeine sourced from green coffee bean extract. Yuzu Lemon flavor adds a distinct flavor to this blend. This pod is also 15 calories.
Sources:
Farah A, Donangelo CM. "Phenolic compounds in coffee." Brazilian Journal of Plant Physiology; 18, 2006, 23-36.
Green Coffee Extract. Applied Foods. https://appliedfoods.com/green-coffee-extract-gca/. Accessed 12 November 2019. (our vendor of Green Coffee Bean Extract.)